Lucrisma represents a transformative step in personal financial management, providing users with a powerful tool to oversee all their financial data through a tokenized virtual portfolio. This comprehensive guide will navigate you through the process of setting up and optimizing your Lucrisma account, ensuring you take full control of your financial future.
Setting Up Your Lucrisma Account
Creating your Lucrisma account is the first step towards financial clarity. Start by visiting the Lucrisma website and follow the simple sign-up process.
Step 1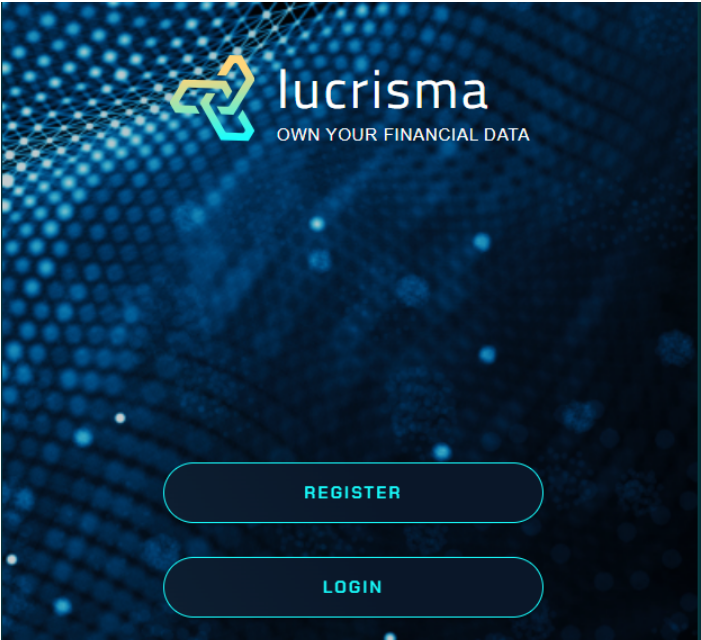 Step 2
Click "Register"

Lucrisma will allow traditional Web2 logins with an email address or connecting your Google account. Web3 logins are also enabled if that is your preference. 
Step 3
Once logged in you will arrive at the dashboard. The Lucrisma dashboard is your financial command centre.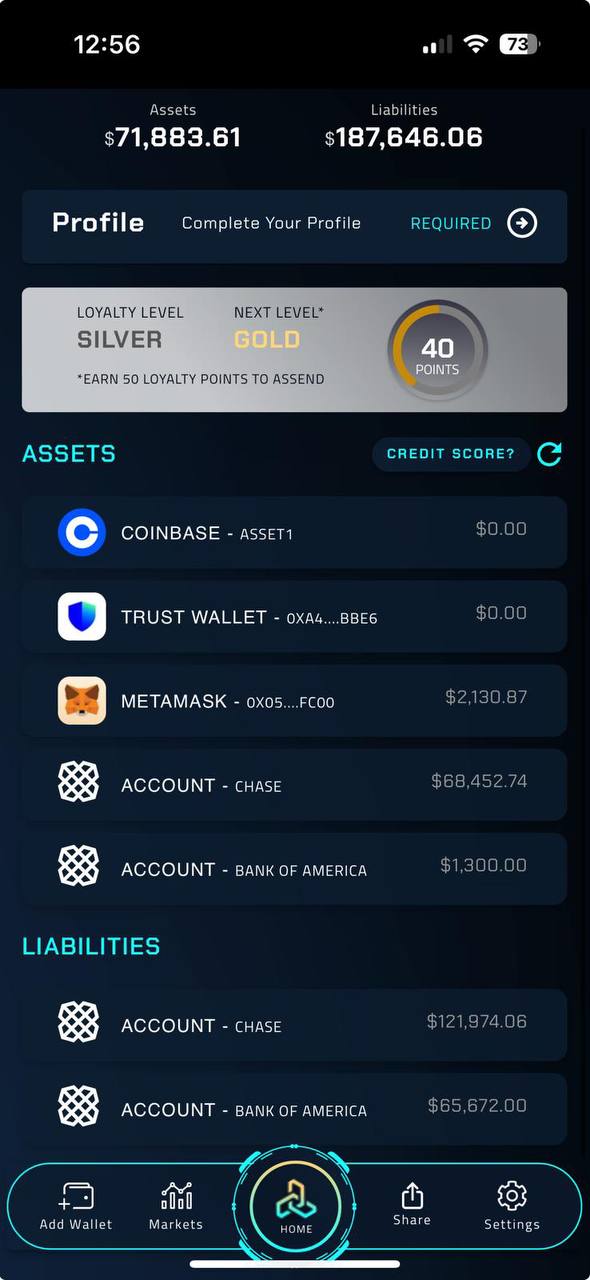 From here, you can view every asset you own, analyze your investment portfolio, and track your banking and crypto transactions, all in one secure location. Lucrisma's platform allows for the seamless integration of your entire financial position to get a full picture of your financial health. Lucrisma currently supports the following:
Bank Connections
Connecting to traditional financial institutions is a breeze with Lucrisma, giving you the ability to manage over 12,000 US and Canadian banks in your portfolio.
Crypto Exchange Accounts
Keep an eye on your digital assets by connecting your accounts from exchanges like Coinbase directly to your Lucrisma dashboard. Many more exchanges are roadmapped and are coming soon!  
Investment Tracking
Your retirement and brokerage accounts are also part of Lucrisma's comprehensive tracking, informing you about your investments' performance.
Non-Custodial Web3 Wallets
You can connect over 300 different Crypto wallets including MetaMask, with other wallet integrations on the horizon, by simply clicking "Wallet Connect".
We are not stopping there! The following features are all roadmapped and coming soon! 
Pay Slips
W-2 Forms
Identity Documents
Your Financial Assistant Features
Lucrisma is more than just a management tool; it's your financial assistant. Unlock mortgage incentives, receive personalized insurance offers, and take advantage of exclusive credit card deals.
The following can be done by heading to "Share".
Mortgages
Unlock exclusive incentives and offers from your preferred mortgage firms. With your tokenized data, you can apply for and share your information securely and privately, ensuring complete ownership and control over your financial data.
Insurance (coming soon)
Get personalized insurance offers from top providers by securely sharing your tokenized financial data. With complete ownership and control over your information, you can receive exclusive incentives and find the coverage that best suits your needs.
Credit Cards (coming soon)
Receive exclusive credit card offers and incentives from your preferred financial institutions. Apply for the card of your choice with your tokenized data, securely and privately, ensuring complete ownership and control over your financial data.
Scoring
Get a comprehensive, blended credit score that considers both your on-chain and off-chain financial activities. With our innovative approach, you'll get a more accurate representation of your creditworthiness, giving you better access to financial products and opportunities.
The LCR Token Utility
The native $LCR token is not currently released but it will be an integral part of the Lucrisma ecosystem. Offering you the ability to pay for subscriptions and earn rewards. To participate in the Lucrisma ecosystem, and to gain monthly and daily token incentives for completing various tasks.
On your dashboard you can unlock different loyalty levels by holding the tokens, the higher your membership level the greater the rewards you receive! $LCR can be used for things such as:
Pay For Subscription: $LCR tokens can be used to pay for your subscription to Lucrisma, allowing for a seamless and integrated user experience.

Earn Monthly: Stay active on Lucrisma and earn free $LCR tokens every month as part of the platform's rewards program.

Earn Daily: Simply by opening the Lucrisma app daily, you can earn $LCR tokens, encouraging regular engagement with the platform


Signing up to the platform will earn you a bonus of $LCR once the token goes live. Make sure you follow our
Twitter
for updates about the $LCR token! Lucrisma operates on a freemium model, which means that users can access a wealth of features at no cost, with the option to unlock additional premium features for a subscription fee, fees can be paid in fiat and the native $LCR token. This structure ensures that everyone has the opportunity to optimize their financial management, with the flexibility to scale up as their needs grow.
Conclusion
In sum, Lucrisma stands as a groundbreaking platform for personal financial management, offering a secure, streamlined, and comprehensive method to oversee your entire financial landscape. It empowers you with a suite of tools for asset management, financial assistance, and exclusive opportunities, all while ensuring your data remains private and protected. Embrace the future of finance management with Lucrisma, where your financial well-being is just a click away. Ready to take control?
Sign up for Lucrisma
and transform the way you manage your finances today.